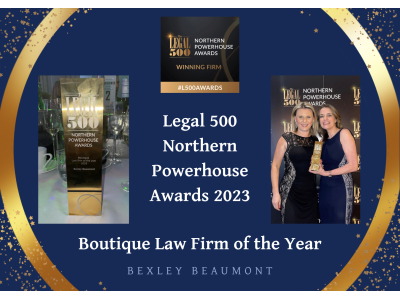 Bexley Beaumont has been hailed as one of the north of England's leading law firms after collecting a prestigious award.
Despite only opening its doors three years ago, it was named as the Boutique Law Firm of the Year in the inaugural Northern Powerhouse Awards.
Chief Executive Karen Bexley was also nominated in the Management Partner of the Year category together with her co-founder, Anna Beaumont.
The competition was organised by Legal 500 and based on the research used to compile its annual rankings of the law industry.
Mrs Bexley said that the triumph was recognition for Bexley Beaumont's commitment to establishing a novel way to deliver an "optimal service" to clients.
"To be chosen ahead of so many renowned and long-established legal brands confirms that we are not only doing something right".
"It also underlines that we are making great strides in pursuit of our objective of making a genuine difference in how people view fee share firms as well as only offering the highest quality legal support possible."
"We believe that our approach really does allow very talented lawyers the support and the autonomy which they need in order to work efficiently and effectively."
"As a result, clients can avail themselves of vast legal expertise in a far more flexible fashion than might be the case with traditional law firm structures."
"We regard this award as being a tribute to a great and truly collective effort. It will no doubt be a spur to future development."
The first Northern Powerhouse Awards comprised 48 prizes for individuals and firms across a range of 12 legal disciplines and a further dozen operational areas.
Organisers said that their purpose is to "recognise the lawyers, law firms and in-house legal departments setting the pace in the region, providing a platform to celebrate their achievements over the last 18 months".
In choosing each of the award winners, they drew on research for their authoritative annual rankings of the domestic law industry, including thousands of interviews with clients and legal peers.
Bexley Beaumont was the youngest and the only fee share practice on the shortlist of 11 firms which were vying for the Boutique Law Firm award.
During a glittering prizegiving ceremony at Manchester's Kimpton Clocktower Hotel, judges described how Bexley Beaumont had "made waves with fast growth, a progressive culture and an innovative fee-sharing model" since launching in January 2020.
The success also follows the publication independent research conducted by the legal research consultancy, Codex Edge, which named Bexley Beaumont as one of the top 10 Alternative Law Firms (ALFs).
The Codex research covered more than 2,200 ALFs across the UK and examined the impact generated by ALFs in the decade since the Solicitors Regulation Authority (SRA) first licensed Alternative Business Structures (ABSs).
As well as working for clients in a variety of sectors, including retail, leisure and hospitality, pharmaceuticals, logistics, real estate and the public sector, the firm has won a string of prestigious awards.
Bexley Beaumont now boasts 41 partners and three associate solicitors. In addition to offices in the City of London, the firm maintains premises in the heart of Manchester's business district.